Manufacturing & Engineering
Do you need to overcome production demands and tightening margins?
Do you have increasing skill set demands for your new staff?
Are your job vacancies growing faster than you can fill them?
To achieve greater business performance, you need a new kind of talent partner.
MENA Solutions specialises in bringing highly-qualified professionals to you. With skilled worker shortages and the rapid pace of industry change, our recruitment expertise becomes your strategic advantage.
Our experts integrate with your company culture, creating a precise understanding of the ambitious, complex talent you need. When you partner with us, our experience becomes your competitive edge.
We serve clients across the Engineering sector, offering the following services:
Volume Recruitment
Recruitment Process Outsourcing
Overseas Recruitment
Managed Talent Events
Watch our short video to learn how our talent partnerships benefit large scale Hospitality projects.
More industries we work with
Don't just take our word for it… See what our clients have to say.
I've had the pleasure of working with MENA Solutions over the past year, during which they have helped me search and recruit very high caliber candidates for senior positions within the GCC market. I would not hesitate to recommend MENA Solutions if you are looking to hire business critical staff.
Vice President, HR – Telecoms and IT
We choose to work with MENA Solutions and are very satisfied with the work done by a highly effective project lead in Ria. She is able to adjust to our needs as they change and also able to source new candidates when the initial proposed ones do not fit what we are looking for.
HR Director – Manufacturing & Engineering
We are successfully working through the second phase of our project currently and I feel absolutely confident that the entire project will be delivered on time and budget. I will continue to recommend MENA Solutions to all my clients and personally find the entire team thoroughly enjoyable to work with.
CEO – Manufacturing & Engineering
I have had the pleasure of working with Ria from Mena Solutions for the past few months. Ria is an outstanding recruiter. She was able to quickly grasp my career requirements and provided phenomenal support. Her performance has far exceeded my expectations and I feel very fortunate to have had her time and talent.
Vice President, Social Media – Telecoms and IT
Ria is exceptionally good in her role as Account Manager at Mena Solutions, she is proficiently skilled in identifying the right candidates and taking them though the whole selection process. She is very well organized, pays great attention to detail and excellent in her follow-ups & project management skills.
Vice President, Accounting – Telecoms and IT
Ria is a very dedicated Account Manager with a strong sense of urgency in getting things done. Mena Solutions shows a clear understanding of the needs of the clients and ensures closure with effective detailing and execution skills. I would highly recommend Ria.
Chief Commercial Officer – Telecoms and IT
Matthew Roy is highly potential skilled personal. MENA Solutions handled my opening to RPA very professional way. Also he has an effective communication and quick response helped me to settling in RPA smoothly. Still he is continuing his support in every way. Good luck and best of luck!!
Senior Chief Engineer – Manufacturing & Engineering
It was my pleasure to work with Matthew from MENA Solutions on a position he was filling in Saudi Arabia. He was very thorough and provided all the information needed to move the process along. Even after I was in the position, Matthew would follow up to ensure that all was going well and answer any questions I may have had.
Senior Chief Engineer – Manufacturing & Engineering
As the Exploration Manager of Dragon Oil I have recently hired to high calibre candidates for my team that David Flemming identified following a face to face meeting in our office in Dubai. His professionalism and cooperation was fantastic... David provided very valuable advice to the selected candidate on the logistic of relocating to Dubai.
Exploration Head – Oil and Gas
David knows his stuff. He's a bulldog with a relentless focus on making things happen. Remarkably thorough, completely on-point. And he does it all with a smile, making it look easy. If you need some one senior to get a job done, call David. He'll deliver the goods.
Chief Marketing Officer – Telecoms and IT
David... made the most of our corporate briefs and job descriptions to source few candidates that truly had dream profiles for the job. Beyond his professional approach, David has true flair for the business and a relentless drive; anyone who works with David must be ready to keep up with great results turned in at record speed.
Management Consultant – Telecoms and IT
I've turned to David lots in the past 3 or 4 years because he always has the right candidates for short and long term hires at exactly the right time. David has a keen eye for talent, is open minded, enthusiastic and is outcome oriented. All of which are key attributes in a highly competitive area I'll happily continue to work with David.
Consumer Director – Telecoms and IT
David continues to provide an exceptional service that resulted in the successful hiring of key individuals for my business unit. I would not hesitate to recommend David if you are looking to hire business critical roles.
Group Chief Commercial Officer – Telecoms and IT
I just took up a great role in Qatar recently thanks to David's professionalism, tenacity and sheer hard work... His local knowledge, insights, frankness and honesty proved to be the winning formula. A win-win for all concerned! Suffice is to say I would have no qualms recommending David to any hiring manager or job seeker.
CEO/Founder at the Pricing Bureau – Telecoms and IT
I have known David for a number of years and he is one the most professional and well-presented recruitment consultants I have had the pleasure of working with. David is energetic and focused he helps understand your needs and find solutions quickly. David has developed strong global contacts which makes him essential to consult with when considering new assignments.
Chief Commercial Officer – Telecoms and IT
David is a highly professional recruiter that provided my company with an exceptional service that concluded with the exact requirements we had requested.
Sales Director – Telecoms and IT
David is an experienced and trustworthy advisor in his field of expertise. He drives a business relationship forward in an executive way both regarding project management and identifying key challenges. I highly recommend David as business partner
Global Vice President and GM – Telecoms and IT
David is one of the best headhunters that I have come across. He is extremely professional, highly considerate and very personable. One could always count on him in providing invaluable inputs and ensuring that there is a win-win situation for all parties... I would also highly recommend David to any organization in need of acquiring highly specialized and top class talents
Head of Business Unit – Telecoms and IT
David is open & honest in his approach. The trait that distinguishes him from his competitors is the personalization and candidness of his dealings. In addition to being courteous and prompt - he has the ability to master any new industry he ventures into within a very short span of time.
VP / GM / Head of Corporate Strategy – Telecoms and IT
David did an excellent job at finding me a new role in the Middle East. Not only has he got a great knowledge of the market, he also took the time to give a detailed briefing on all aspects of the job and the location which I found invaluable in making my decision to move.
Head of Product Management – Telecoms and IT
David was instrumental in convincing me to make a challenging and exciting career move by focusing on my long term strategic goals and providing sound calculated alternatives... His passion and enthusiasm were the main factors in achieving favorable results to all parties.
Vice President – Telecoms and IT
David has actively supported the project from the outset despite our ability to meet most of our staffing needs internally. On the occasions we have needed to recruit he has always identified well qualified candidates in a very short time frame. David will be one of a limited number of recruiters we select for the next phase of the project
Executive Director – Manufacturing and Engineering
David is an individual that gets things done. He is well organized, pragmatic and tenacious in his approach, always ensuring any loose ends are closed off in a pro-active manner. He has always offered transparency, consistency and enthusiasm to everyone he has worked with.
Executive Search Director – Recruitment
David was instrumental in finding me work when I got to the UK in 2006. He was a refreshing change from the usual head hunters in that he took the time to really understand my skills and what I was looking for. He is dedicated, enthusiastic and always delivered on his promises
Regional Managing Director – Financial Services
David stands out with his tenacity and focus to deliver results. He knows his market very well and is excellent connected with key decision makers at the major institutions in his target segment. David is a pleasure to work with, always follow up diligently and deliver consistently on his commitments.
Director, New Business – Financial Services
I have worked with David on a number of occasions and found him to be of the highest caliber. His attention to detail and integrity are second to none and his ability to find candidates and opportunities place him well ahead of a competitive field. I would have no hesitation in working with him again.
Senior Director, Strategic Global Alliances – Telecoms and IT
Read our blogs, case studies and interviews to see what we've done for other companies in the Manufacturing & Engineering industries.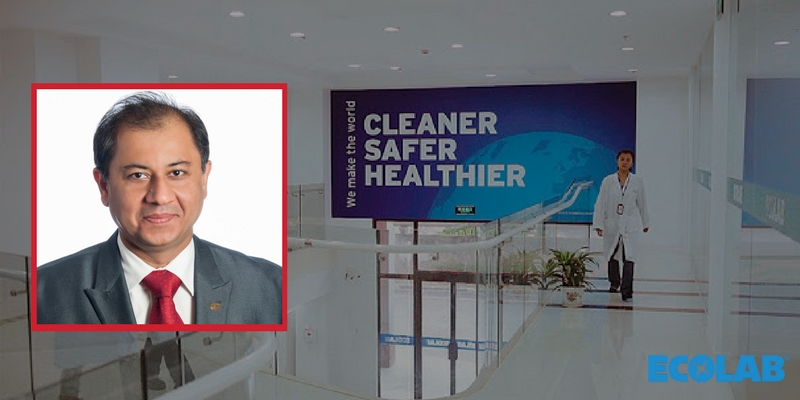 Vishal Sharma, senior vice president of Ecolab's Middle East and Africa region, sat down with us t