NITIN PILLAI
Account Executive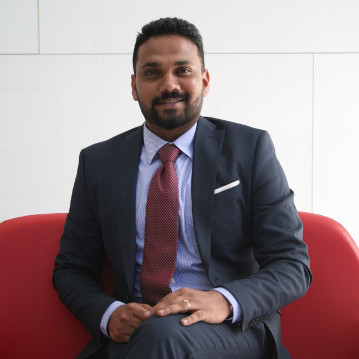 Nitin joined the
Mackenzie Jones Group
in May 2017 and is a Resourcer within
MENA Solutions
bringing over 6 years of experience in Recruitment, Corporate Training, Sales, Account Management and Client Relations. Nitin moved to Dubai in 2015 and worked in the Talent Acquisition Team of a very large diversified group; in his tenure placing various mid to senior level personnel in Marketing and Digital functions. Prior to joining Mackenzie Jones, Nitin also worked with a global recruitment firm in Dubai parlaying his ability to the Manufacturing & Logistics sector and placed high caliber professionals bespoke to his clients' needs.
What made you decide to move to Dubai?
Dubai offers an excellent mix of culture, entertainment and is a fast growing cosmopolitan metropolis. I feel my attitude and ambitious personality identifies deeply with the city and this synergy and curiosity towards vast opportunities brought me to Dubai. From bustling souqs, landmark skyscrapers to the vast desert provides for cultural, professional and entertainment experiences and the mix is unique in the GCC.
What sector/s do you specialise in?
Manufacturing & Engineering
What are you known for professionally?
My curiosity, eagerness and action oriented approach. I am highly result oriented and on an individual level feel highly energetic towards meeting targets & deadlines. I am also known for my people skills and bring a keen sense of interpersonal skills to the work environment.
What do you love about recruitment?
It is as DYNAMIC as it gets. You don't know what is in store with every candidate, project or client and one simply cannot form a habit or dwell in a pattern. Ultimately it is the people that impact business farthest and no system, plan or strategy is independent of the human touch is a fact that is evident even in hindsight -- Recruitment allows me to contribute exactly there.
What intrigues you most about your sector?
Manufacturing & Engineering is fundamental for everything around us. It is a phenomenon in itself as a sector and is the lifeline for all of us – The planet, the world and every entity on it.
What's the next big development in your sector?
With the EXPO 2020 setting the pace for practically everything in the Emirates, there are multitudes of business opportunities and development projects across Infrastructure and adoption of latest and futuristic technology which allows for amplified Manufacturing & Engineering opportunities. And we all know, this is not stopping with Expo 2020.
What's the coolest thing you've done while being in your city?
Wandering the desert aimlessly!
What would be impossible for you to give up?
My ambitions.
What is your social media channel of choice?
Twitter & Facebook
Any hidden talents/hobbies you want to let us know about?
I am very good at playing Snooker, Basketball, Poker and Table Tennis. Also an avid reader.